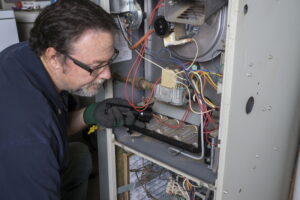 Your heating system has already put in plenty of work so far this winter, and we hope that it will continue to serve you until the warm spring weather finally settles in. But if your heater starts to experience problems, you'll want to know as soon as possible so you can call our professional technicians to come to repair it. The sooner you move on fixing a heating system problem, the easier it will be to repair and the fewer additional problems it's likely to cause.
Heating malfunctions can sometimes be sneaky. You may not immediately notice the trouble. We've put together a list of the five most common warning signs from a heater that will tell you it's time to call "Your Home Comfort Hero," ThermAll.
#1. Odd sounds from the heater
What counts as an "odd sound"? Anything that isn't the normal operating sound you expect to hear during winter days and nights when the heater is running. Heating systems can't work in complete silence, but modern models have reduced the amount of sound they make to the point most people won't notice them. So when you do start to notice noise from the heater (such as clanging, grinding, shrieking, hissing, rattling, etc.), it's telling you something's wrong.
#2. You have to continually adjust the thermostat for comfort
A heating system should stay at a steady temperature during the day when people are home, and at a different (cooler) temperature at night or when the house is empty. If you've found that you have to keep adjusting the thermostat because you're either too hot or too cold, it means something is wrong with either the thermostat or the heating system.
#3. Cold spots appearing around the house
An early indication of a heating system that's losing its heating capacity is when certain rooms start feeling cooler than normal. These are often rooms most distant from the center of the house that aren't getting enough heat through the ventilation system. Uneven heating is always a cause for concern that we recommend you have looked at right away.
#4. An unexpected rise in heating costs
Always pay attention to your utility bills every month. A sudden spike in energy costs can point toward a malfunctioning heating system. Most repair problems in a heater will cause the system to have to run longer or strain harder to work, and this will show up as higher costs for heating.
#5. Odd scents from the vents
Musty, dusty, acrid, or sulfurous smells coming from the vents in your house when the heater is running are all major warnings of problems. You can expect some dusty odors when a gas furnace first comes on for the season, but not later. Some of these odors can represent serious problems, so don't hesitate to shut the heater off and call for help.
You can trust us for any heating repair in Yakima, WA you need. We offer timely service, quality workmanship, and a 100% satisfaction guarantee.
Call ThermAll when you're ready for great repairs for your heating system. We are "Your Home Comfort Hero!"