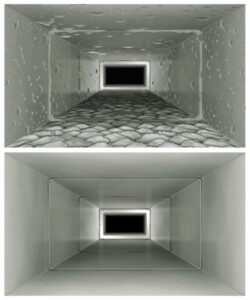 How does the heating and cooling from your central comfort system reach the different rooms in your house? Through the ductwork. These ducts mostly remain out of sight, which is exactly how you want it. But this also means that you won't have a good idea of the condition of the ducts, such as how clean they are. And we've got some bad news: your ducts can get extremely dirty! Dirty enough that it will affect your comfort, energy bills, and even the quality of the air you and your household breathe.
Professional duct cleaning is the best way to fix this. We offer professional duct cleaning in Yakima, WA, and the surrounding areas for our customers and do a thorough job. We want to explain why this service is important and when to arrange for it.
Duct cleaning helps with HVAC system energy efficiency
This is the most important benefit of duct cleaning. You can't stop the accumulation of dust and debris inside the ductwork, although regular vacuuming and dusting in your house can slow the process down. However, even after only a year, dust will form a thin layer along the interior of the ductwork, and this will start to create resistance against airflow.
When the ductwork becomes seriously congested after several years, the restriction on airflow will become enough that it will make your HVAC system need to labor harder to push air to the rooms. Think of it like congested nasal passages making it harder for you to breathe. You'll experience much higher energy bills because of dirty ducts, but professional cleaning can get them back to like-new condition and let your HVAC system breathe easier.
Duct cleaning helps the HVAC system last longer and need fewer repairs
The strain placed on the HVAC system because of congested ducts does more than raise the cost to run it. It also increases wear and tear on the unit, making it age faster and increasing the likelihood of parts failing and needing repairs. In addition, dirty ducts can send dust, lint, and other debris into the HVAC system itself, which damages motors and creates even more problems.
Duct cleaning can improve your indoor air quality
Think of what will happen when your HVAC system's blower comes on when the ducts are crammed with debris. The fan will blast out a good amount of airborne pollutants into the air of the rooms. It will then continue to circulate these pollutants. The ducts will become a reservoir of air contamination that you can't easily clean—but professionals like us can clean it out and improve your air quality. This is especially beneficial if you have people with asthma and allergies in your home.
When to schedule duct cleaning
We generally recommend our customers have duct cleaning done every three to five years. If you've lived in your house for more than five years and have never arranged for duct cleaning, the time to call is now. You should also have cleaning done if you notice high energy bills, excessive dust in the house, and musty and dusty odors from the vents.
Call ThermAll Heating & Cooling, Inc: We are "Your Home Comfort Hero!"