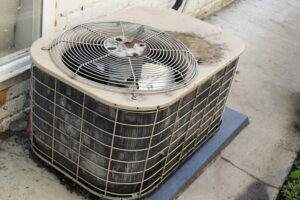 People want to get their money's worth from home appliances and keep them running for as long as possible before they invest in a replacement. This makes sense for some appliances, and we certainly don't advocate replacing an expensive piece of equipment too early when repairs will keep it working in excellent condition.
When it comes to a central air conditioning system—a large and vital investment for a home—trying to push an aging one to keep working year after year is not the best approach. In fact, it will cost far more to do this than to replace the AC a few years earlier. We'll explain more below why you shouldn't push your home's AC for the maximum number of years you can get out of it.
Dropping efficiency and energy waste
The first reason not to keep running your old AC is that it will waste energy and raise your energy bills. If an AC receives regular maintenance each year, it will retain approximately 95% of its original efficiency for its estimated service life. When it gets over that estimate (usually around 12 to 15 years), its efficiency will start to decline as the system wears past the point where maintenance and repairs will help. You might start paying 25% more to power your AC each year. So if you push your AC for three more years than you should, that can add up to far more than the cost of getting a new air conditioner with even better efficiency.
Costly repairs
The older an AC gets, the more you'll have to pay in repairs to keep it running and delay that final breakdown. These repair costs can become steep and not worth it compared to arranging for a replacement. As a general rule, you shouldn't pay more than $500 a year in repairs to keep the AC going, nor should you pay for any repair that costs more than half the estimate on a new system.
Poor air quality
An air conditioner doesn't clean the air in your house. You'll need special filters and purifiers for that. But an old AC can make the air quality worse! The accumulation of dirt and debris inside an old air conditioner will get into your air, and there's also the risk of mold development. An aging AC will also start to allow humidity to rise.
Remember the supply chain situation
If you're reading this post not long after it was originally published, there's another strong reason not to wait for an air conditioner to completely fail before getting a new one: equipment delays due to current supply chain issues. Getting a new air conditioning unit can take longer than usual, so it's best to plan ahead of time to replace one. You might get trapped for longer without an AC if you leave your current one to break down abruptly on you. If you have reason to think your current air conditioner is in trouble, arrange for an estimate on an air conditioning installation in Yakima, WA, with our team ASAP.
Call ThermAll Heating & Cooling, Inc: We are "Your Home Comfort Hero!"