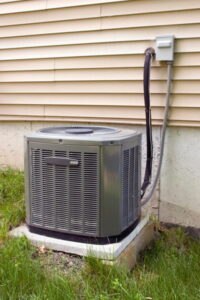 Your home's current central air conditioning system has come to the end of the line. It costs too much to run, it needs repairs too often, its cooling can't keep up with the summer heat, and you can't trust that it will make it through the summer without fail. Any one of these problems is a good reason to consider an air conditioning replacement in Yakima, WA, and our team is ready to help you make the decision and then handle the new installation.
Getting a new AC isn't as simple as looking over shopping choices online and picking one that "seems good." You'll need to work with our experts to ensure you have the right system to meet your needs without rapidly wearing down or wasting power. Here are some important considerations for when you're ready to have a new central AC installed.
How important is energy efficiency?
You certainly don't want an air conditioner that wastes energy—but there's a whole range of options when it comes to the efficiency of new ACs. The good news is that advances in cooling technology have come far since you purchased your previous air conditioning system, so almost any new system will have superior efficiency. The current efficiency minimum for a central AC to receive the US Department of Energy's ENERGY STAR label is 15 SEER. There are high-efficiency units with SEER above 20.
What you need to keep in mind here is that 1) high-efficiency units cost more, and 2) a high SEER rating isn't always a guarantee you'll save money, since a poorly installed unit will waste power no matter what. Our technicians will help you take the long view and see what efficiency level is ideal for both energy savings and to fit in with your current budget.
Is a heat pump a good alternative?
Heat pumps work almost identically to air conditioners, and during the summer a heat pump does the same job you would expect from a central AC. The difference is that a heat pump can operate as a heating system during the winter using the same process—only in reverse. Heat pumps are more expensive than standard ACs, but if you have plans to also replace your furnace at the same time as your air conditioner, then it becomes an appealing choice. Heat pumps aren't ideal for all situations, so ask your installation pros about the possibilities.
Are you interested in adding zone controls?
Installing a new air conditioner offers you a great opportunity to have zone controls added to your HVAC system. Zone controls allow you to choose which areas of the house receive cooling, rather than cooling all rooms connected to the ventilation system at the same time. Zone controls offer many advantages: lower cooling costs, personalized temperatures for members of the house, and more even cooling distribution. Our technicians can explain more of the benefits and explain what's required to put in zone controls as part of your AC replacement.
We're here to see that you end up with the cooling system that's just right for your house and family.
Call ThermAll Heating & Cooling, Inc: We are "Your Home Comfort Hero!"