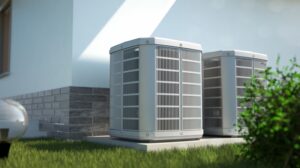 The simple answer to this question is a noncommittal: "It depends." That's often the answer when it comes to major decisions about replacing HVAC units.
Every home is different, every household different, and what works well in one situation may be inappropriate and wasteful in another.
As local HVAC experts who often work with HVAC replacement in Ellensburg, WA and the surrounding areas, we can provide you with information that will help you think about whether replacing your current AC with a heat pump is a wise choice.
If you want solid answers, you can get in touch with our team. We'll consult with you based on your specific needs and budget to find the ideal outcome.
Does Your AC Need to be Replaced Yet?
This is the first question to ask yourself. Air conditioning systems are major investments, and you want to get the most useful years out of yours. Replacing a well-working air conditioning system with more years of efficient cooling ahead of it isn't a good choice, even if a heat pump will benefit your home.
ACs can run for 10–15 years, so if yours is younger than that, it's probably too early to worry about a replacement. As long as you have an air conditioner that works well and isn't costing you big bucks on your bills or in repairs, you can think about a heat pump later.
Do you Plan to Replace Both Your AC and Furnace?
This is another critical question to address. Heat pumps have the major advantage of working as both cooling and heating systems, which is one of the reasons people want to have one installed in their home.
For a heat pump to be worth the cost, it must do both jobs: if you install a heat pump only to work as a cooling system and keep your furnace, you're wasting money.
If you don't have plans to replace your furnace when you replace the AC, then a heat pump isn't the best option. But if you're going to replace both, then a heat pump is one the best options around!
Natural Has or All-Electric Home?
Heat pumps are all-electric heating and cooling systems that can work in any modern house. For many people, switching to all-electric heating is appealing because of the environmental benefits, and it's the main reason why heat pumps are becoming more popular.
If your home is all-electric, getting rid of an old electric furnace along with the AC to replace both with a heat pump will help you save money. 
What if you use natural gas in your home? You may still want to switch to a heat pump for environmental reasons, although the energy savings won't be as significant. This situation straddles the line, and you'll have to look more into your heating plans and how much you want to move away from using natural gas in the home.
Consult with the Pros
We're fans of heat pumps, but we also acknowledge they aren't always the best choice. We want to help you find the heating and cooling that best fits your home, your household, your budget, and your priorities.
Call ThermAll Heating & Cooling, Inc: We are "Your Home Comfort Hero!"