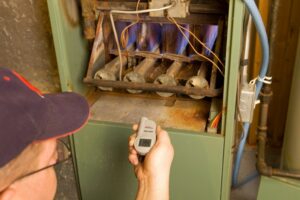 If you have a natural gas furnace providing your home with heat, you probably know that there is some potential for dangerous carbon monoxide gas exposure. This is something that's true of any home appliance that combusts natural gas, not just gas furnaces. Carbon monoxide (CO) is a byproduct of the combustion process, a colorless, odorless, and toxic gas that creates health complications and can even cause death with extended exposure.
Gas furnaces aren't inherently unsafe—they would never be permitted in homes if they were—so you don't need to panic about having a gas furnace in your house. But you must take several precautions to ensure the furnace runs safely and that you and your family have ample warning in case CO leaks into the home. One of these precautions is to have annual carbon monoxide testing.
What Carbon Monoxide Testing Is
This testing measures if any amount of CO is escaping from the furnace. To conduct the test, technicians use special CO detectors to measure the carbon monoxide levels in the air that surrounds the furnace. The detector is usually placed near the furnace of an air intake vent. The technicians turn on the furnace and allow it to run while watching the detector.
There will likely be some trace elements of carbon monoxide in the air—this is present in most homes—but the levels should not be more than 10 parts per million (ppm). If the levels are higher than that, the technicians will need to closely examine the furnace to find if there are leaks. The most common culprits behind leaking CO in a furnace are a cracked heat exchanger or blocked exhaust vents.
When to Have CO Testing Done
We recommend you have carbon monoxide testing in Yakima, WA done annually. In most situations, you won't have to worry about scheduling this as a separate service: we perform it as part of regular HVAC maintenance during the fall. It's an important part of the safety checks we do for furnaces. As long as you remember to have this annual maintenance done, you'll have the CO testing you need. If you join our maintenance program, you'll receive reminders about regular HVAC maintenance so you won't forget.
You'll also need to have CO testing done if your home's carbon monoxide detectors go off. Whenever you hear the CO detectors' alarm, leave the house immediately and contact the gas company. Once they've determined that it's safe for you to return to your home, contact our team to arrange for carbon monoxide testing to find out the trouble with the furnace and what needs to be done to ensure it runs safely again. In the case of older furnaces (close to 15 years or older), it's often better to replace the heating system entirely rather than to try to push ahead with a unit that's already deteriorating and creating safety concerns.
It's our job to help you keep your home's heating system running as safely as possible. If you have any concerns about your gas furnace, don't hesitate to reach out to us.
Call ThermAll Heating & Cooling, Inc: We are "Your Home Comfort Hero!"