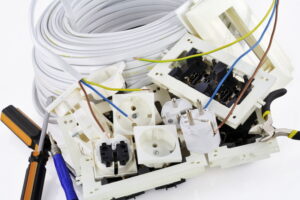 If you need to have electrical repairs done in your home, the first step is to look for a professional electrician. But hiring a professional electrician isn't as simple as an online search where you pick the first name that pops up. You need to know how to navigate hiring an electrician so you don't make several common mistakes that can lead to costly problems later or even safety risks.
Below, we'll go over the errors you want to avoid when you're looking for professional electrical repairs in Yakima, WA.
Not asking for credentials and licenses
For an electrician to be considered professional, they must have a license to operate in the state as well as the proper credentials. It isn't hard to find out if your electrician has these credentials: just ask for them! Any true professionals will be ready to provide you with the proper paperwork and allow you time to verify them. Anyone who doesn't want to show you credentials isn't someone you want to hire.
Ignoring experience and specialization
Electrical systems are complex, and different types of repairs require specific skills and expertise. Consider an electrician's experience and specialization when hiring them. For example, if you're looking for residential wiring repair, you don't want an electrician who mostly does commercial work. Look over an electrician's previous projects, read customer reviews, and ask for references to find out more about their level of expertise and make sure they're the right people for what you need.
Using price as your only criteria
You get what you pay for—and if you try to go cut-rate on electrical services, what you get might be terrible, even dangerous. If you're looking for the lowest bid, you're taking a big risk. Balance the cost with the electrician's reputation for quality. Any electrician who offers a suspiciously low price will probably try to make up for the difference with poor materials and a rushed job. Paying more for a quality electrician will actually save you money, since you won't need to have the job redone!
Not looking for recommendations and references
Many of the leads that electricians get come from personal references. That's one of the best incentives for an electrician to provide the best quality service every time. Asking friends and family for a recommendation about a trustworthy electrician is one of the most reliable ways you can find the best one to hire. You should also ask any electrician for references and then follow up on them. This will give you a better idea if this is the electrician you need for your repairs.
Overlooking insurance coverage
Accidents or property damage may occur during electrical service, even with skilled professionals. It's vital that you hire an electrician who has adequate liability insurance. This ensures that you're protected from financial liability if they're are accidents or injuries during the repair work. Always ask for proof of insurance and verify it before hiring an electrician.
Ignoring Communication and Professionalism
Pay attention to how an electrician communicates with you and presents themselves when you approach them. A professional electrician should be responsive, respectful, and able to clearly explain technical details. Avoid electricians who don't communicate well or display unprofessional behavior.
Call ThermAll Heating & Cooling, Inc: We are "Your Home Comfort Hero!"