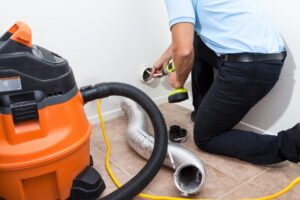 Homeowners often forget about duct cleaning or else think it's not necessary. Unfortunately, there are some shady companies that hawk "duct cleaning services" that don't do much of anything at all except a shallow vacuuming of several ducts. This nearly useless type of duct cleaning has soured some people on the idea of the service.
However, duct cleaning professionals with the right equipment who take the time to do a thorough job can make a major difference for a home. A complete cleaning with a pressurized power vacuum and rotary brushes returns ducts to a "like new" condition that reduces resistance on the HVAC system and lowers the amount of dust and other debris that gets blown around the air. (Consider that the average 6-person home circulates 40 pounds of dust a year and you'll understand what duct cleaning can really do.)
But do you need duct cleaning now? How can you tell? Let's take a look at whether it's time to call us to schedule an appointment for duct cleaning in Ellensburg, WA.
It's been 3 to 5 years since you last had it done
This is the schedule that we recommend for duct cleaning as a routine service. It only takes about one year for a thin layer of dust to develop on the walls of ducts and begin to create resistance to airflow. After three to five years, the buildup of dust, lint, dander, etc. inside the ductwork will be enough to cause a decline in HVAC performance and possibly even cause damage. It won't be beneficial for your indoor air quality either!
You've never had it done before
If you've lived in your home for several years, long enough that you have to stop to think about how many years have passed, and you've never arranged for duct cleaning in that time, you're probably overdue for it. Get started with it now and think about keeping up with the recommended schedule we listed above.
You've noticed rising HVAC costs
If you have a standard central HVAC system, the ducts receive use all around the year. If the ducts are extremely dirty, this will restrict the ability of the HVAC system's blower to distribute conditioned air and you'll see the effects on your utility bills. We recommend you first have our HVAC technicians check out the system to see if there's something else wrong. If it's dirty ducts, we'll be able to tell.
The house is dusty all the time
When ducts become excessively clogged with dust, that dust will continually circulate through the home and keep it dusty. You'll find dust collecting everywhere, and no amount of dusting does much good. You'll likely notice the air is dusty and unpleasant as well. These are major signs that you've got ducts crammed with dust.
You make a visual check and it's not good
This is a basic technique that will give you a look at the inside of your ducts. Remove the vent cover from one of the supply ducts, then reach down inside with your smartphone. Take a picture (with flash) of the interior. If the image you capture looks like a clogged car air filter, then it's time for duct cleaning.
Call ThermAll Heating & Cooling, Inc: We are "Your Home Comfort Hero!"