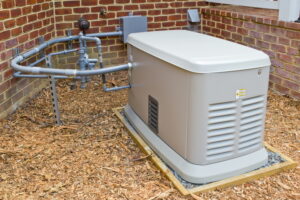 Nobody wants to be at the mercy of a power outage in their home. Even a brief one that lasts only a few minutes is an annoyance because you have to go check on all your electrical appliances and reactivate them, as well as reset several clocks, the thermostat, and re-log into your Wi-Fi modem from several devices.
The real threat comes from extended power outages that can last for hours or even days. These can strike in extreme weather conditions or due to massive strain on the electrical grid. A household depends on electrical power in numerous ways, and losing that power will mean a loss of heating and air conditioning, the refrigerator, ways to charge mobile devices, computer connections, Wi-Fi connections, and more. When it comes to the HVAC system and powered medical equipment, power outages can turn into genuine emergencies.
A backup generator can rescue you from all these problems and give you valuable peace of mind. And not just any generator. We recommend all our customers install a whole-house generator rather than rely on a portable one. A whole-house generator is a more expensive option, but it's a long-term investment with enormous benefits.
The Trouble With Portable Generators
You can buy a range of portable generators, but they all suffer from the same basic limitations when compared to whole-house generators. We don't want to imply that portable generators are useless: they have a number of excellent uses, such as for camping trips and for keeping in a vehicle for emergencies. But if you need to power your house during an outage, whole-house is the way to go.
Portable generators simply do not create enough electricity to power an entire house—they're not designed for that. With a portable generator, you'll have to select which appliances receive power. These generators require a manual set-up each time the power goes out, which is generally a pain—and you have to make sure they have enough fuel in them each time. Finally, portable generators can be hazardous because they emit toxic fumes when they operate, which makes them less than ideal for using indoors.
The Advantages of Going With a Whole-House Generator
As the name indicates, a whole-house generator can power your whole home: the lights, all the appliances, the heating and cooling systems, any vital medical equipment, computers … the works. You don't have to make choices: your entire home has the power it needs.
You don't have to set up a whole-house generator when you need it because it's hardwired into your home's electrical system, and if you have an automatic generator, you won't even need to turn it on because it will do that itself when the power goes out. As long as you schedule regular maintenance for your generator, you can expect to have peace-of-mind about power outages for many years to come.
If you're looking for a generator install in Yakima, WA, we're the people to turn to. We install the best line of generators available, Generac. This is the number one selling brand of generator in the country, and for many good reasons.
Call ThermAll Heating & Cooling, Inc: We are "Your Home Comfort Hero!"